Budget Fares
Below are trips to Nelson Lakes National Park that are scheduled or chartered trips on which you can combine: Click below on the pad to download a PDF file onto your computer highlighting all the forthcoming trips to the Nelson lakes (including scheduled trips).
Single fares are available to all other parks and tracks and advertised on the Trek Express website which is all part of the same company (the Heaphy Bus Co. Ltd.). If you would like to combine on an existing trip to other track ends in Kahurangi and Abel Tasman click here to take you to another website.
This season we will be operating from Nelson as well as the Nelson Lakes district as we have a driver based in St. Arnaud. Scheduled trips will run from St.Arnaud and Mt. Robert to Nelson and return every Tuesday and Friday December till end of February 2019. Tuesdays and Fridays departure time 11:00 am from St. Arnaud and returning 1:00 pm from Nelson city and airport. The shuttle may possibly divert to Lake Rotoroa on demand. To book on a scheduled trip online click through to the Heaphy Bus website booking form (all the same company).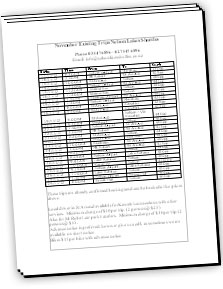 BOOK HERE to send you to the form and then scroll down till you find Nelson Lakes.